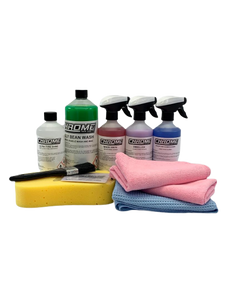 Chrome Exterior Kit
$46.67

$46.67
incl VAT
Kit contains:
500ml Embellish

500ml Window Cleaner

500ml Wheel Brite

500ml Ultra Tyre Shine

1 ltr Jelly Bean Wash

1 Paintbrush (Perfect for use with Ultra Tyre Shine)

1 Wash Sponge (Perfect for use with Jelly Bean Wash)

2 Microfibre Cloths

1 Waffle Drying Towel

1 Hanging Air Freshener
Jelly Bean Wash is a highly concentrated PH neutral vehicle wash that is wax and sealant safe. When used in small quantities and highly diluted, Jelly Bean Wash still provides excellent suds and ease of use. Rinse off loose dirt first, pour approximately 30-50ml of Jelly Bean Wash into an empty bucket and top up with required amount of water, cold or warm. Apply with a wash mitt, sponge or brush and rinse off with clean water then dry with towel or chamois.
Embellish is an ultimate quick detailing spray. It delivers a highly durable hydrophobic finish that is quick and easy to apply. It is safe on all paints, will not degrade any sealants or waxes. Simply spray onto the surface and buff off with a microfibre for a slick durable finish.
Window and Glass Cleaner is a non smear liquid glass cleaner for the removal of dirt, grease and wax etc from all types of glass. Also works brilliantly on polished ally or durabrite wheels for a quick clean and added extra sparkle.
Wheel Brite is a non acid wheel cleaner with a tough formulation for the breakdown of brake dust on vehicle wheels. Spray onto the surface and agitate with a soft brush or cloth to soften the brake dust and rinse thoroughly with clean water. Care must be taken on anodised material and lacquered wheels. Wheel Brite is not suitable for durabrite or polished alloy. Colour may fade but does not affect product strength.
Ultra Tyre Shine is a superior wet look tyre dressing, formulated to restore a smooth new look to tyres and exterior trim. Leaves a water repellent long lasting shine. May also be used on hoses, rubber and external plastic components. Best applied with a paintbrush or sponge.
Allow hanging air freshener to hang freely and avoid it coming into contact with any interior plastics.
---
---
---
We Also Recommend
---