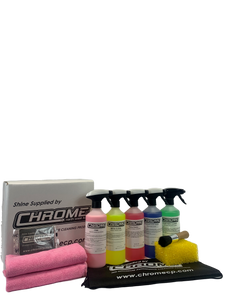 Chrome Interior Kit
$46.67

$46.67
incl VAT
Kit includes:
1 x 500ml Pink
1 x 500ml Mega Clean
1 x 500ml Very Cherry Air Freshener
1 x 500ml Super Fabric Cleaner
1 x 500ml Window/Glass cleaner
2 x Pink Microfibre Cloths
1 x Interior Upholstery Sponge
1 x Hanging Air Freshener
1 x Dash Duster Brush
1 x Drawstring Bag
Pink is a one step cleaner and dresser for the interior of your vehicle featuring a fantastic long lasting fragrance. Use through hand spray or apply with a soft cloth on interior surfaces. Pink has a gentle cleaning action and superb finishing properties. The longer you leave before buffing off the better the shine but do not leave to long or let product dry and add sparingly and evenly. In summertime Pink makes an excellent tyre shine so can be used on interior and exterior.
Mega Clean is a strong general purpose cleaner for the removal of built in grime on both the interior and exterior of the vehicle. Great on UPVC frames, removes oil, grease and nicotine from plastics and vehicle head linings etc. Can also be used as a pre spray or through a pressure washer system. Keep away from leather and polished metal surfaces. Features a new lemon sherbet fragrance.                                                                                                                                                                                                     Window and Glass Cleaner is a non smear liquid glass cleaner for the removal of dirt, grease and wax etc from all types of glass. Also works brilliantly on polished alloy or durabrite wheels for a quick clean and added extra sparkle.
Very Cherry is an aromatic air freshener that masks unpleasant odours leaving a rich cherry fragrance. Simply spray the amount required to your own tastes and allow to dry. Take care not to spray where staining may occur, if this happens then wipe over with a damp cloth or mild detergent. Can be diluted for economy.
Super Fabric Cleaner is a superb carpet and upholstery cleaner. Unique chemical action will actively digest dirt and eliminate odours at source. Cleans, removes stains and deodorises in one step. Can be diluted from 2 parts water up to 50 parts water. Spray on, agitate and wipe away. Can also be used with superb results using an extraction machine.
Allow hanging air freshener to hang freely and avoid it coming into contact with any interior plastics.
---
---
---
We Also Recommend
---