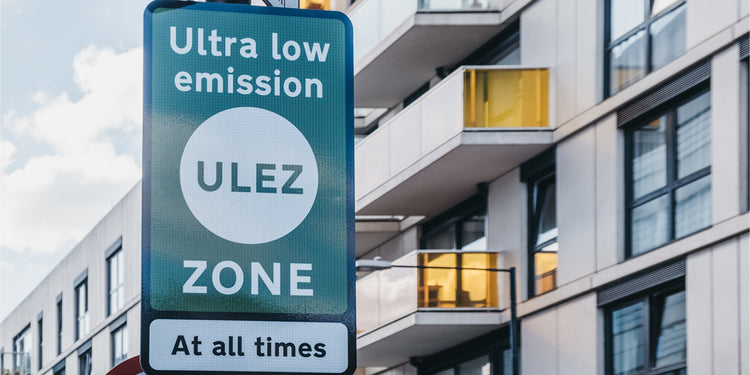 What are clean air zones and how will they affect truck driving?
April 20, 2022
Clean Air Zones, a recent scheme by the government to improve air quality, are areas in which a local authority has brought measures into place to reduce harmful emissions.
Initially, it was thought that only buses, taxis, and HGVs would be affected. However, following a legal challenge, this was widened to include private motorists whose vehicles are older or have more harmful emissions.
But what does all of this mean for truck drivers, and how will it affect your route? 
What is a clean air zone?
Clean Air Zones are the regional branch of the government's broader Air Quality Plan, which aims to improve air quality and address sources of pollution. Essentially, it puts power into regional authorities' hands to regulate pollution levels through the best measures for the local area.
There is two types of Clean Air Zone: non-charging and charging. These names refer to whether or not drivers will be charged a fee to enter the area if their vehicle fails to meet the required environmental standards.
So far, Clean Air Zones can be found in Bath, Birmingham, Bristol, Derby, Leeds, Manchester, Nottingham, and Southampton, with more on the horizon.
How do Clean Air Zones affect truckers?
Of course, it's well known that HGVs aren't the most environmentally friendly vehicles, even though great strides have been made in the provision of electric and more environmentally-friendly vehicles.
In London, the Clean Air Zones are known as LEZ (low emission zones), which are unique to London and are separate to the Congestion Charge. HGVs not meeting the required emissions standards and that are therefore non-compliant are currently required to pay a daily charge of £100 to enter London's LEZ respectively.
Meanwhile, it's just as expensive to drive a HGV in Bath, with Manchester being relatively cheap at £60 per day.
Concerns surrounding CAZs have been highlighted as two of the top three issues that car and van fleets believe they will face before 2026. Luckily, some help is available to mitigate the changes brought about by the new legislation. 
Is financial support available?
Transport for London (TfL) has allocated £52 million in funding through three scrappage schemes ahead of the ULEZ expansion, helping to replace or retrofit almost 10,000 vehicles to be more environmentally friendly. Birmingham launched a £10m scrappage scheme in May, and this is aimed at supporting people working in the city's CAZ who earn less than £30,000 per year.
Meanwhile, Greater Manchester was able to secure £120 million in government funding to help fleets upgrade to cleaner, compliant vehicles, with van operators able to access up to £4,500 towards the replacement of a vehicle and for Greater Manchester Hackney Cabs, that figure rises to £10,000.
Without a doubt, CAZs pose a challenge to the haulage industry, but with financial support available businesses' should try and make their fleet as green as possible.
---
WHETHER YOU NEED WHEEL TRIMS, LIGHTING, CAB FURNISHINGS, AIR HORNS OR MORE, WE'RE THE DRIVING FORCE BEHIND BRITAINS TRUCKERS. CLICK HERE TO BROWSE OUR RANGE OF TRUCK ACCESSORIES OR CALL US NOW ON 01284 810680
---
Share this post
---
---